Tim Barringer
Primary tabs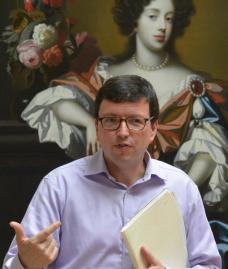 Paul Mellon Professor in the History of Art, Chair History of Art
Victorian Visual Culture
British Art, 1700 to present
American and British Landscape Painting, 1750-1900
Nineteenth-century European Art
Post-colonial Studies
Gender Studies
Loria Room 657, 190 York St, New Haven, CT 06511
B.A., Trinity Hall, University of Cambridge 
M.A., Institute of Fine Arts, New York University
D.Phil., University of Sussex

Tim Barringer is Paul Mellon Professor of the History of Art. He specializes in the eighteenth-, nineteenth- and twentieth-century art of Britain and the British Empire, nineteenth-century American and German art and museum studies. Following positions at the Victoria and Albert Museum, the Universities of London and Birmingham in Great Britain, he came to Yale in 1998. His books include Reading the Pre-Raphaelites (Yale, 1998), Men at Work: Art and Labour in Victorian Britain (Yale, 2005) Opulence and Anxiety (2007), catalogue for an exhibition at Compton Verney, and Before and After Modernism (Central St Martins, 2010).
Barringer was curator with Andrew Wilton, American Sublime: Landscape Painting in the United States, 1825-1880 (London: Tate, 2002). With Gillian Forrester and Barbaro Martinez-Ruiz, he co-curated Art and Emancipation in Jamaica: Isaac Mendes Belisario and his Worlds, (Yale, 2007). The accompanying book was awarded the Alfred Barr Prize of the College Art Association. With Alison Smith and Jason Rosenfeld be curatedPre-Raphaelites: Victorian Avant-Garde at Tate Britain, London; National Gallery of Art, Washington DC; Pushkin Museum, Moscow; Mori Arts Center, Toyko, and Palazzo Chiablese, Turin. He is curator of Pastures Green and Dark, Satanic Mills, an exhibition of landscape painting from the National Museum of Wales, which will tour to four US museums in 2015-16.
Tim Barringer has been active as an advisor of Ph.D. dissertations at Yale, has served as Director of Undergraduate Studies and Director of Graduate Studies in the History of Art Department and was winner of the Sarai Ribicoff teaching prize in 2004. In 2009 he was the Slade Professor of Fine Art at the University of Cambridge. The lectures, 'Broken Pastoral: Art and Music in Britain, Gothic Revival to Punk Rock' will appear as a monograph.
Recent publications include 'The Englishness of Thomas Cole' in Nancy Siegel, ed., The Cultured Canvas: A Social History of American Landscape Painting (University Press of New England, 2011); 'Benjamin Britten, Samuel Palmer and the neo-Romantic Pastoral', Art History, February 2011, and 'Seeing With Memory: Hockney and the Masters, David Hockney: A Bigger Picture, London: Royal Academy of Arts, 2012. He was co-author of the catalogue. Future plans include the publication of two edited volumes, Viewing Platform: Perspectives on the Panorama (co-edited with Richard Maxwell and Katie Trumpener) and Victorian Jamaica (co-edited with Wayne Modest). He has contributed an essay, "Poetry" to the catalogue of Rubens and his Legacy, edited by Nico van Hout, Royal Museum of Fine Arts, Antwerp and Royal Academy of Arts, London, 2014-5.
In 2013-14 Tim Barringer held a J. Clawson Mills Fellowship at the Metropolitan Museum of Art, New York.


Selected Publications
Opulence and Anxiety: Landscape Paintings from the Royal Academy (Kineton, Warwickshire: Compton Verney, 2007)
Men at Work: Art and Labour in Victorian Britain (New Haven: Yale University Press, 2006).  Winner of the Historians of British Art book prize, best book on British art after 1800, 2007
Art and the British Empire, edited with Geoff Quilley and Douglas Fordham (Manchester: Manchester University Press, 2007).
Art and Emancipation in Jamaica: Isaac Mendes Belisario and his Worlds, co-edited with Gillian Forrester and Barbaro Martinez-Ruiz (New Haven: Yale University Press, 2007)
'Sonic Spectacles of Empire: The Audio-Visual Nexus, Delhi-London, 1911-12' in E. Edwards, et al, eds., Sensible Objects: Material Culture, the Senses, Colonialism, Museums (London: Berg, 2006).