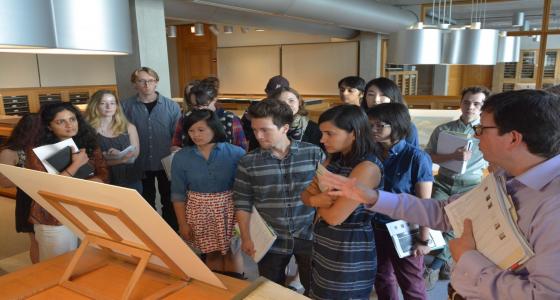 A NOTICE TO PROSPECTIVE STUDENTS
We regret to announce that the Yale Department of the History of Art will not accept applications to our graduate program during the 2021 admissions cycle. In order to ensure that the department has resources to adequately support its students during the Covid-19 pandemic, we will hold off on bringing new students to the program until 2022. The decision to eliminate a cohort of future graduate students was not an easy one, but we have decided that our priority during these unsettled times is to take care of those who are already in our program; we believe that this is the most responsible course of action at the present moment. We look forward to reading applications again in the fall of 2021 for the 2022 cohort.
- - - - - - - - - - - - - - - - - - - - - - - - - - - - - - - - - - - - - - -
Welcome to our webpage for graduate studies. Here you will find practical information about our PhD program, including details about departmental course and language requirements, faculty expertise and publications, graduate students and their project, and more. (Please note that Yale's History of Art program does not include an MA-only option.) Please click on "Description of Graduate Studies (Red Book)" for answers to more specialized questions regarding departmental requirements and procedures. If you should have in-depth inquiries pertaining to your field of specialization, I recommend that you contact the relevant faculty member via e-mail. If you have questions about the department generally, you are welcome to e-mail me as Director of Graduate Studies. 
If you are interested in making a visit to campus prior to applying, please contact the individual professor(s) in your preferred field of study directly via e-mail to arrange a suitable schedule. Such visits should take place in the fall semester, before the applications are due. Keep in mind that there is no requirement that applicants visit campus. Even complex questions can be answered via e-mail.
We hope that you find the material contained here illuminating and helpful. And we thank you for your interest in the Ph.D. program in the History of Art at Yale University.
Carol Armstrong
Director of Graduate Studies
carol.armstrong@yale.edu  
Tel: 203.432.2680
Loria 658
> PDF of Red Book (Full Program Description and Requirements)