Graduate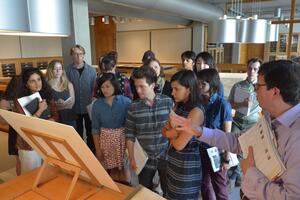 Welcome to our webpage for graduate studies. Here you will find practical information about our PhD program, including details about departmental course and language requirements, faculty expertise and publications, graduate students and their projects, and more. (Please note that Yale's History of Art program does not include an MA-only option.) For more specific questions regarding departmental requirements, timelines, and procedures, please click on "Description of Graduate Studies (Red Book)." If you should have in-depth inquiries pertaining to your intended field of specialization, I recommend that you contact the relevant faculty member via e-mail. If you have questions about the department generally, you are welcome to e-mail me as Director of Graduate Studies. 
If you are interested in making a visit to campus prior to applying, please contact the individual professor(s) in your preferred field(s) of study directly via e-mail to arrange a suitable day and time. Such visits should take place in the fall semester, before the applications are due. Please keep in mind that there is no requirement that applicants visit campus; some professors prefer to communicate with prospective students only via e-mail or a phone call. Even complex questions can be answered via e-mail.
We hope that you find the material contained here on the website illuminating and helpful. And we thank you for your interest in the Ph.D. program in the History of Art at Yale University.
For more information regarding requirements and admission see Graduate Handbook: Red Book. 
Our graduate students also have access to the  GSAS Professional Development for: leadership and communication, mentorship, training, negotiation and people skills, practical interships, and advice on preparing for diverse Careers and the Office of Career Strategy (OCS) for: diverse career exploration, networking, resumes and cover letters, interview prep, employer events, job hunting and intership resources, negotiation and decision-making.