Jacqueline Jung
Primary tabs
Professor in the History of Art
Director of Undergraduate Studies
Medieval European Art and Architecture
Loria Room 553, 190 York St, New Haven, CT 06511
B.A., University of Michigan, 1993
1991-1992: Ludwig-Maximilians-Universität, Munich
M.A., Columbia University, 1995
Ph.D., Columbia University, 2002
 
Jacqueline Jung specializes in the art and architecture of medieval Europe, with an emphasis on the figural arts of Gothic France and Germany. Her teaching encompasses the history of medieval sculpture; images of death and apocalypse; Gothic cathedrals; the body as medium and matter in the Middle Ages; monumental narrative arts; late medieval altarpieces; visions and visionary experiences in art; the representation and stimulation of emotions in medieval art; and the importance of materiality, movement, and space in medieval visual culture. She has recently developed a 100-level course introducing students to sacred art and architecture around the globe, from the pyramids of Egypt to the World Trade Center Memorial in Manhattan.  
Professor Jung's recent book, Eloquent Bodies: Movement, Expression, and the Human Figure in Gothic Sculpture (Yale University Press, 2020), provides new ways of looking at monumental sculptural arts in medieval Europe, exploring the diverse facets of sensory, physical, and affective experience they suggest and provoke. Her first book, The Gothic Screen: Sculpture, Space, and Community in French and German Cathedrals, ca. 1200-1400 (Cambridge University Press, 2013), received the Samuel and Ronnie Heyman Prize for Outstanding Scholarly Publication at Yale, the PROSE Award for Best Book in Art History and Criticism from the Association of American Publishers, and the John Nicholas Brown Award for a First Book from the Medieval Academy of America. Professor Jung has translated several seminal art-historical studies from German, most notably Aloïs Riegl's Historical Grammar of the Visual Arts (Zone, 2004; paperback edition to appear in March 2021).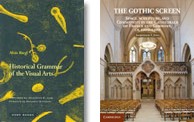 Recent Publications
Eloquent Bodies: Movement, Expression, and the Human Figure in Gothic Sculpture (New Haven: Yale University Press, 2020).
The Gothic Screen: Space, Sculpture, and Community in the Cathedrals of France and Germany, ca. 1200-1400 (Cambridge: Cambridge University Press, 2013).
"The Work of Gothic Sculpture in the Age of its Photographic Reproduction," in The Lives and Afterlives of Medieval Iconography, ed. Pamela A. Patton and Henry D. Schilb (University Park: Pennsylvania State University Press, 2021), 161-94.
 "The Strangeness of Crucifixes," in Christ on the Cross: The Boston Crucifix and the Rise of Monumental Wood Sculpture, 970-1200, ed. Shirin Fozi and Gerhard Lutz (Turnhout: Brepols, 2020), 406-19.
"France, Germany, and the Historiography of Gothic Sculpture," in A Companion to Medieval Art: Romanesque and Gothic in Northern Europe, 2nd expanded edition, ed. Conrad Rudolph (Blackwell, 2019), 513-46.
"The Boots of St. Hedwig: Thoughts on the Limits of the Agency of Things," in The Agency of Things in Medieval and Early Modern Art: Materials, Power and Manipulation, ed. Grażyna Jurkowlaniec, Ika Matyjaszkiewicz, and Zuzanna Sarnecka (New York: Routledge, 2018), 173-96.
"The Medieval Choir Screen in Sacred Space: The Dynamic Interiors of Vezzolano and Breisach," British Art Studies, Issue 5 (2017), multimedia presentation accessible at https://doi.org/10.17658/issn.2058-5462/issue-05/jjung.