Study Trip to Jamaica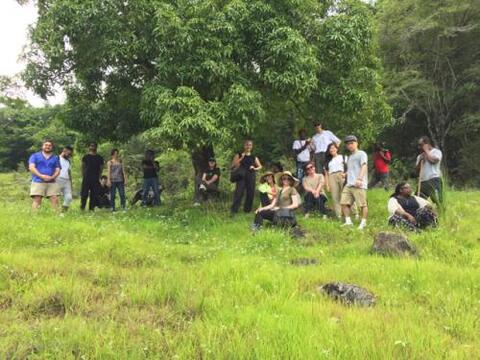 As the capstone for the spring 2018 graduate seminar "Slavery and Visual Culture in Jamaica," the class traveled to the island in late May for a week of research. The trip—led by professors Tim Barringer and Ned Cooke—was a wide-ranging experience that provided a multidimensional understanding of Jamaican art, history, and culture.
The first part of the visit was spent on Jamaica's north coast and dedicated to landscape and architecture. After a day of hiking through the hills of Cockpit Country with members of the Maroon community at Accompong, students considered the plantation landscape at Good Hope and the Georgian architecture of nearby Falmouth, before continuing to the capital city, Kingston.
From Kingston, the group went on day trips to Spanish Town with Dr James Robertson of the University of the West Indies, and Port Royal and later studied the collections and archives at the National Library, the Institute of Jamaica, and the National Gallery, where we worked closely with librarians and curators. These visits culminated with the book launch for Victorian Jamaica, introduced by leading Jamaican scholars Dr Wayne Modest and Dr Petrina Dacres, in the Gallery, where many of the volume's contributors gave short presentations and there was a discussion session with Jamaican students, scholars and members of the public. The final day included visits to a variety of twentieth and twenty-first century sites, including a curatorial introduction to the Marcus Garvey Museum, with Dr Shani Roper, and the Bob Marley Museum, Devon House, and National Heroes Park before an evening flight home.