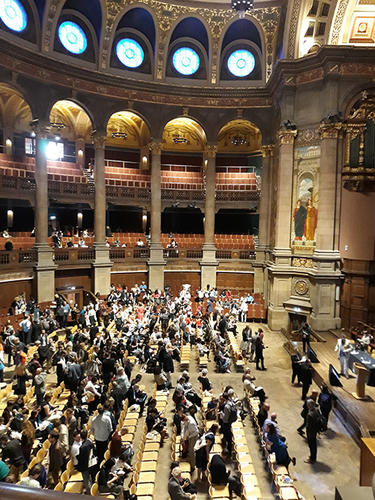 Rheo Brandner presents paper in Edinburgh
On 14-19 July 2019, scholars from across the globe gathered in Edinburgh, Scotland for the 15th International Congress on the Enlightenment.
Organized by the International Society for Eighteenth-Century Studies and hosted by the University of Edinburgh, this year's congress was the largest ever held with over 1500 participants.  477 individual panels and a number of plenary sessions showcased the international scope and breadth of scholarship. From ''Punishing 'Wicked People' in Eighteenth-Century China'' to ''Writing Black Atlantic Lives'' to the quest for ''Indigenous Laws'' in Brazil, the gathering offered an opportunity for dialogue between continents as well as different disciplines, methods and discourses.  The great names of the Pan-European Enlightenment, Voltaire, Diderot, Rousseau were honored with several panels each, and thanks to the location of the congress, the Scottish Enlightenment and its luminaries such as the biographer James Boswell, the philosopher David Hume or the economist Adam Smith, was afforded pride of place.
I was honored to present a chapter of my dissertation on the Genevan pastelist Jean-Etienne Liotard (1702-1789) focusing on his portrait of the famous femme savant Louise d'Épinay. While the history of art was not prominently represented at the conference, a number of papers emphasized the importance of images in an age that saw an unprecedented proliferation of prints and the establishment of what is now called the public sphere. (The full program can be viewed at: https://www.bsecs.org.uk/isecs/en/)
The assembly concluded in the magnificent McEwan Hall with the announcement of the next congress on the eighteenth-century, scheduled to take place in Rome in 2023. The question to be explored will concern "Antiquity and the Shaping of the Future in the Age of Enlightenment.''
Christine Rheo Brandner (PhD student, Yale University).