Recent Yale PhDs Appointed To Prestigious Faculty Positions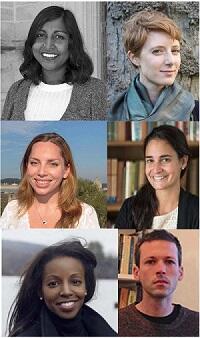 Recent Yale PhDs Appointed To Prestigious Faculty Positions
Recent years have seen graduates of the Department's doctoral programs win prestigious post-doctoral fellowships and curatorial positions. Below we feature graduates from the last two years who have been appointed to tenure-track professorships in six leading Art History programs.  In a generally hostile climate, this is an extraordinary achievement and we offer warm congratulations.
Anna Arabindan-Kesson  (Ph.D., Yale University, 2014), Assistant professor of African American and Black Diasporic Art, Departments of History of Art and African American Studies at Princeton University.
Anna Arabindan-Kesson specializes in African American, Caribbean, and British Art, with an emphasis on histories of race, empire, and transatlantic visual culture in the long nineteenth century. An international upbringing and interdisciplinary training—in the fields of African American studies and art history—have shaped her intellectual formation. Drawing on the transnational, even global, perspective that African American Studies provides, her scholarship lies in conceptualizing the ways Black Diasporic art compels us to rethink constructions of national identity, racial formation, and cultural production.
Meredith Gamer (Ph.D., Yale University, 2015), Assistant Professor, Department of Art History and Archaeology, Columbia University
Meredith Gamer specializes in the visual and material culture of eighteenth- and nineteenth-century Europe, with a focus on Britain and the British Empire. Her interests include the relationship between art, violence, and ethics; print culture; medical and anatomical illustration; the visual culture of slavery; and postcolonialism and contemporary art. Her current book project, The Sheriff's Picture Frame: Art and Execution in Eighteenth-Century Britain, centers on the spectacle of punishment in Britain's long eighteenth century.  In 2014, Gamer co-curated the exhibition Figures of Empire: Slavery and Portraiture in Eighteenth-Century Atlantic Britain with Esther Chadwick and Cyra Levenson at the Yale Center for British Art.
Sylvia W. Houghteling, (Ph.D., Yale University, 2015), Assistant Professor of History of Art, Bryn Mawr College
Sylvia Houghteling teaches Global Baroque, South Asian Art and Material Culture. Her research focuses on textiles from the early modern period with a particular interest in exchanges between South Asia, Europe and Islamic lands. She studies the interconnections between early modern courtly cultures, the cosmopolitanism of provincial centers, and the active role of textiles in the pageantry and politics of everyday life. Her forthcoming book, The Art of Cloth in Mughal India is an original art historical account of South Asian textiles in the early modern era.
Henrike C. Lange (Ph.D., Yale University, 2015), Assistant Professor, Departments of History of Art and Italian Studies, University of California, Berkeley
Henrike Christiane Lange specializes in Italian late medieval and early Renaissance art and architecture history and literature. Her art historical research has focused in recent years on Giotto, Donatello, Mantegna, and the history and theory of relief sculpture. Lange's doctoral dissertation on Giotto's Cappella degli Scrovegni, Relief Effects: Giotto's Triumph, now under revision for publication as a monograph, offers a new interpretation of Padua's chapel at the Arena in relation to a set of specific ancient Roman sculptural sources in an Augustinian theological frame of reference.
Sarah Lewis (Ph.D., Yale University, 2015), Assistant Professor of History of Art and Architecture and African American Studies, Harvard University
Sarah Lewis's research interests focus on representations of race in contemporary art and nineteenth- and early twentieth-century America culture and across the Black Atlantic world and the Black Sea region. Her current book project, Black Sea, Black Atlantic: Frederick Douglass, the Circassian Beauties, and American Racial Formation in the Wake of the Civil War, grows from her dissertation, advised at Yale by Robert Farris Thompson. Lewis is also the author of The Rise: Creativity, the Gift of Failure, and the Search for Mastery.
Jacob Stewart-Halevy, (Ph.D., Yale University, 2015) Assistant Professor, Department of Art and Art History, Tufts University
Jacob Stewart-Halevy (B.A., UC Berkeley; MFA, U.C.L.A.; Ph.D., Yale) joined the department in 2015. His research focuses on the intersection among modern and contemporary art, intellectual history, media theory, and anthropology. His current work includes a book project on the "casual" in California Conceptualism, which addresses the way artists take up stances to their work and the fate of sprezzatura after the mediums.