Professor Robert Farris Thompson 1932-2021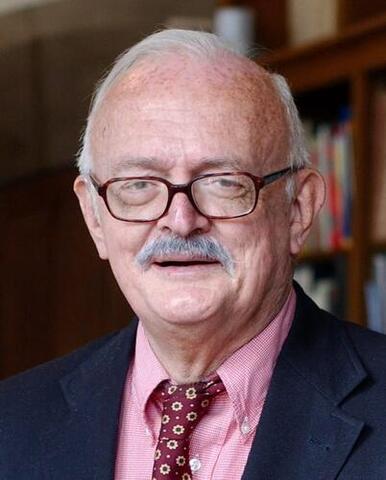 Professor Robert Farris Thompson 1932-2021
Thompson was professor emeritus of African American studies and the former Colonel John Trumbull Professor of the History of Art at Yale. For more than half a century on Yale's faculty and during his thirty-two years as the beloved "Master T" at the helm of Timothy Dwight College, he secured his place in the pantheon of beloved professors, and university leaders. Thompson dedicated his life and scholarly career to studying the art history, culture, dance, and music of the African and Afro-Atlantic world.
Born in 1932 in El Paso, Texas, Thompson was raised by his father Dr. Robert Farris Thompson, a surgeon, and his mother, Virginia Hood Thompson, a local arts patron, to appreciate the cultures on both sides of the nearby border with Mexico.
It was on a family vacation to Mexico City during his senior year of high school that Thompson first heard Mambo music-an experience that sparked what would become a lifelong passion for Afro-Atlantic music, dance, visual art, and culture. After graduating from Phillips Academy Andover, in Massachusetts, Thompson enrolled at Yale, where he lived in Branford College and completed his bachelor of arts degree in 1955. He then served for two years in the Seventh U.S. Army in Stuttgart, Germany and toured as a drummer with the USO after winning in the All-Army Talent Show. He released an Afro-Cuban percussion album, Safari of One, in 1959 before returning to Yale to pursue doctoral work under the famed George Kubler. He received his Yale Ph.D. in Art History in 1965 focusing on Yoruba art. Thompson was one of the first academics to pioneer the field of African American studies.
Beginning with a Ford Foundation fellowship to Nigeria in the 1960s, Thompson conducted extensive field research in most African, South American and Caribbean countries over the course of 60 years. Peripatetic until the end, Thompson most recently was investigating African music and dance in Lima, Peru in 2018. By past students he is remembered as an enthusiastic polyglot and skilled improvisationalist, known for peppering his lectures with Creole, French, Hebrew, Italian, Kikongo, Portuguese, Spanish, Yoruba, and other languages. And by colleagues he is revered as an influential force for his exploration of Afro-American and African cultures-a multi-disciplinary scholar whose approach fused anthropology, art and dance history, ethnomusicology, philosophy, religious studies, and sociology to understand the arts of Africa and the African diaspora within their larger context. He also brought African Art to the National stage with two landmark shows, African Art in Motion (1974) and Four Moments of the Sun (1981) at The National Gallery of Art in Washington DC.
His use of the lectern as a drum during his lectures electrified generations of students, and his generous mentoring of young scholars helped mold future luminaries including Sylvia Boone, William Ferris, Henry Louis Gates Jr., and many others. He was one of the pioneers in Afro-American studies and helped pave the way for future generations in the field. He was friends with multiple generations of artists, including Jean-Michel Basquiat, David Byrne, Willie Colon, Jonathan Demme, Larry Harlow, Keith Haring and Tito Puente. His former students included CEOs, pro athletes, doctors, engineers and entrepreneurs who left Yale with an appreciation for the positive impact of African culture on society today. A consummate fan and supporter of Yale Athletics, Thompson could often be seen on the sidelines of Yale football games encouraging his student athletes.
Thompson's academic research often included death-defying adventures worthy of Indiana Jones, including narrow escapes from well-armed guerillas, exploding cars, military coups, poisonous snakes, and other close scrapes while conducting field research in remote corners of the globe. His sartorial style was a bold take on traditional J.Press academic attire; he was known for continuing to wear madras shorts well into winter, and hiking the Congo's Ituri forest with the Mbuti pygmies in well-worn penny loafers.
Thompson was the author of dozens of scholarly and popular articles, including a cover story for Rolling Stone. His many books and catalogs span from Black Gods and Kings in 1971 to Aesthetic of the Cool: Afro-Atlantic Art and Music in 2011, as well as a forthcoming life work, Mambo, which he called "the book that started every other one." His landmark book, Flash of the Spirit: African and Afro-American Art and Philosophy, has been in print continuously since it was published to acclaim in 1984.
His career honors include the Arts Council of the United States African Studies Association's Leadership award, in 1995; the Dance Studies Association's Outstanding Contribution to Dance Research Award, in 2007; and Yale's Chubb Fellowship, in 2009. In recognizing Thompson with its inaugural Distinguished Lifetime Achievement Award for Writing on Art in 2003, the College Art Association described him as a "towering figure in the history of art, whose voice for diversity and cultural openness has made him a public intellectual of resounding importance." In May 2021 he was honored with an honorary degree from Yale celebrating his lifetime of academic achievement.
Raised Presbyterian and later a member of the Episcopal church, his broad syncretic spiritual tradition also encompassed several traditional religious societies, including Erinle and Basinjom.
Robert is survived by: his daughter Alicia Churchill; son Clark Thompson; sister Ginger Schoellkopf, four grandchildren and one great granddaughter.
Written by Clark Thompson