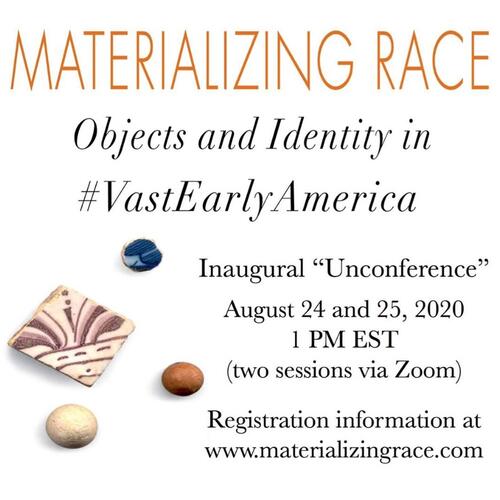 Materializing Race: An "Unconference" on Objects and Identity in #VastEarlyAmerica
Co-founded by Dr. Cynthia Chin (Fred W. Smith National Library for the Study of George Washington) and Philippe Halbert (PhD Candidate, Yale History of Art) in the spring of 2020, Materializing Race is a virtual community committed to nuanced interpretations of material culture and interdisciplinary approaches to constructions of race and their legacies across the Americas between 1450 and 1830.
An inaugural Materializing Race "unconference" will feature four thematic lightning round panels on Monday August 24 and Tuesday August 25 at 1 PM EST via Zoom. Panels will be divided between two afternoon sessions, with short presentations by a variety of speakers followed by a moderated discussion and Q&A. Registration is free and open to the public. Please visit https://www.materializingrace.com/unconferences for reservation information and details on this and future programming.