"The Long 1960s" seminar in Washington DC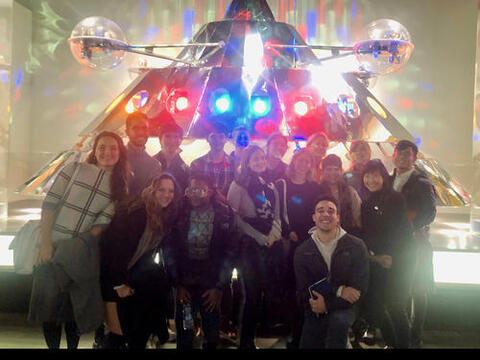 "The Long 1960s" seminar in Washington DC
Professor Pam Lee's undergraduate seminar "The Long 1960s" traveled to Washington, D.C. for a three-day field trip in November. Class visits to museums, monuments, and art exhibitions encouraged energetic conversations on the visual and political concerns connecting art practices and major protest movements in that period.
At the National Museum of the American Indian, associate curator and author Paul Chaat Smith (Comanche) engaged with students in a wide-ranging discussion on American Indian activism in the 1960s, as well as strategies for communicating with broad national audiences through exhibition-making.
A tour of the National Museum of African American History and Culture, led by esteemed guide Sharon Wilkinson, took students through deeply affecting installations that presented the civil rights movement and Black Power amid preceding centuries of African-American history. The class then held a group discussion in the museum's contemporary art galleries.
Students engaged with the legacy of minimalism, post-minimalism, and systems art in situ at the National Gallery, exploring works by Eva Hesse, Richard Serra, and Hans Haacke among others. A visit to the Vietnam War Memorial, designed by Maya Lin, preceded a final discussion and group reflection.
Commenting on the trip, one student wrote: "Our class trip to D.C. was a great way to contextualize the material that we've been learning throughout the semester. Many artworks from the 1960s played directly with the viewer's experience. Interacting with the work directly brought the readings describing them to life."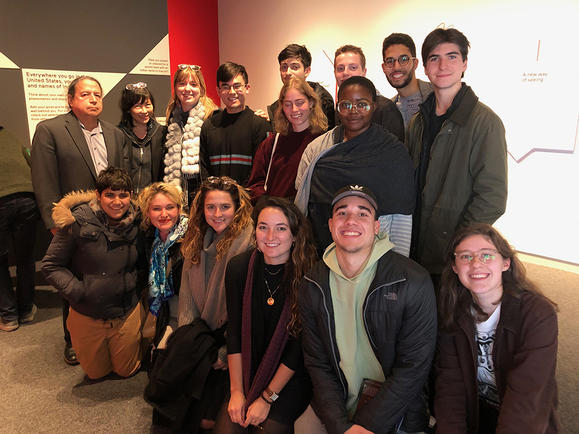 NMAI associate curator and author Paul Chaat Smith (Comanche) held a seminar discussion with students.