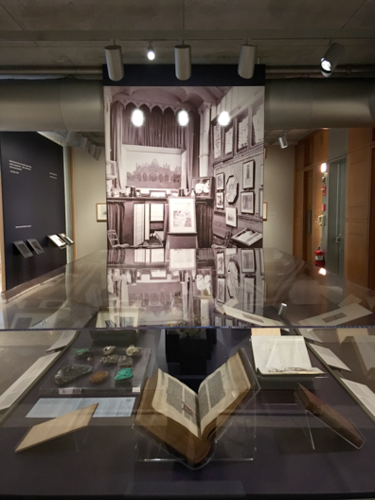 Last weeks of exhibition curated by three History of Art Doctoral Candidates
Unto This Last: Two Hundred Years of John Ruskin, on view at the Yale Center for British Art until December 8th, examines the Victorian art critic and social theorist John Ruskin as a proto-ecological thinker, social reformer, educator, and preservationist. The exhibition contends that many of the questions Ruskin raised in the nineteenth century—about the environment, education, labor, the ethics of observing, and the role of socially conscious art (and art criticism)—remain relevant today, two hundred years after his birth.
Unto this Last brings together a variety of objects from across Yale's collections, including minerals from the Peabody Museum, manuscripts and first editions from the Beinecke Library, and exquisite works on paper from the Yale Center for British Art. These are augmented by generous loans from the Metropolitan Museum of Art; the Morgan Library; Harvard Art Museums; and the Fitzwilliam Museum, Cambridge.
The exhibition was curated by three doctoral candidates in the Department of the History of Art: Tara Contractor, Victoria Hepburn, and Judith Stapleton; with Tim Barringer, Paul Mellon Professor of the History of Art; and Courtney Skipton Long, Acting Assistant Curator of Prints and Drawings at the Yale Center for British Art. The exhibition will travel to the Watts Gallery in Compton, Surrey, UK, where it will be on view from March 10 to May 31, 2020. Unto this Last is accompanied by a catalogue, published by the Yale Center for British Art in association with Yale University Press.
For more on the exhibition see the Yale Center for British Art's website.