History of Art Graduating Students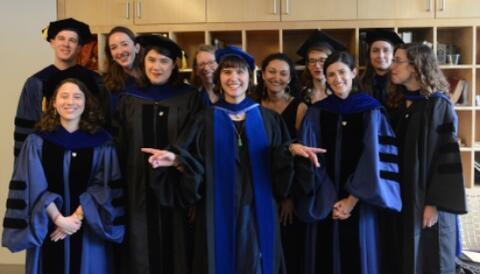 History of Art Graduating Students
Congratulations to the 13 doctoral students who graduated in 2019, and a special congratulation to our Blanchard prize winners Maggie Breidenthal and Kirsty Dootson and the John Addison Porter prize holder of 2019, Alex Morrison!  This year's graduates produced important dissertations across an exceptionally wide range of subjects:
Mal Ahern, "Factory Forms: Reproducing Images in the Postwar United States" (Francesco Casetti)
Magdalene Breidenthal, "Leaving "Heaven on Earth": The Visual Codes of Middle Byzantine Church Exits." (Robert Nelson)
Kristy Sinclair Dootson, "Industrial Color: Chromatic Technologies in Britain, 1856-1969" (Tim Barringer)
Evan Freeman, "Ritual Object, Ritual Space: Art, Agency, and Performance in the Middle Byzantine Liturgy" (Robert Nelson)
Katherine Lanford Joy, "Silver and Silverplate in Mid-Nineteenth-Century Boston: Obadiah Rich, Newell Harding and Roswell Gleason" (Edward Cooke, Jr)
Tess Korobkin, "Sculptural Bodies of the Great Depression" (Jennifer Raab)
Sophie Lynford, "The American Pre-Raphaelites: An Egalitarian Ocularity" (Tim Barringer, Jennifer Raab)
Alexandra Morrison, "Copying at the Louve" (Carol Armstrong)
Christopher Platts, "Paolo Veneziano and the Patronage, Design, and Reception of Venetian Gothic Painting" (Robert Nelson)
Sam Sackeroff, "The Liberal Image" (Carol Armstrong)
Audrey Sands, "Lisette Model and the Inward Turn of Photographic Modernism" (Carol Armstrong)
Nicole Williams, "The Shade of Private Life: Visions of Imperiled Privacy in Late Nineteenth-Century American Art" (Edward Cooke, Jr.)
Caitlin Woolsey, "Sensibilia: Sounding the Acoustic Image in Postwar France" (Craig Buckley)
Many of you have already embarked on an academic or curatorial career, and we believe that this fundamental first step will lead you to a fulfilling professional life. These excellent dissertations will surely find publication as books, articles and exhibition catalogues in the future: each forms the basis for a scholarly profile that will continue to develop in the years to come. The department of art history will watch your next steps with great pride and affection.
Nicola Suthor, DGS