History of Art Alum Uses Virtual Tours to Promote Well Being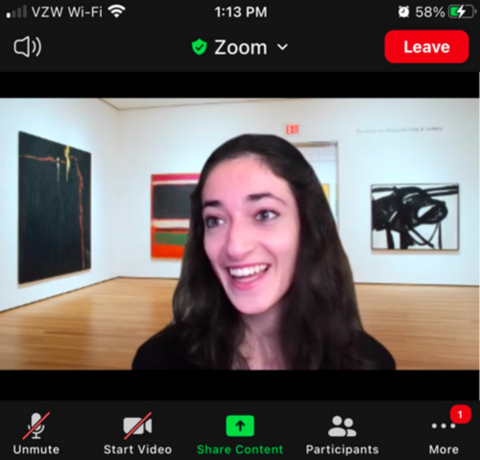 History of Art Alum Uses Virtual Tours to Promote Well Being
Art is key to a person's overall well-being.
Julie Averbach, a 2022 Yale graduate who majored in History of Art, led a research study that supports this notion.
Last fall, Averbach and Joan Monin, PhD, conducted a study through the Yale School of Public Health and found statistically significant evidence that virtual art tours foster emotional well-being, improvements in positive emotions, and life satisfaction. This study was recently published in The Gerontologist.
"Our findings support the beneficial mental health potential of virtual art-viewing experiences for older adults," they concluded. "Technology may provide an effective platform to deliver wellness-oriented cultural enrichment programming while enhancing accessibility."
In July 2020, Averbach launched a nonprofit project called smARTee. Through smARTee, she provides free virtual art museum tours for older adults.
"At the outset of the Covid-19 pandemic, older adults not only faced heightened susceptibility to the virus, but also mental health challenges stemming from intensified isolation and mandatory lockdowns," says Averbach. "In this context, I put my Yale studies in History of Art and Psychology to use by launching smARTee."
Averbach researched, curated, and wrote art tours of the Museum of Modern Art and the Metropolitan Museum of Art in New York, and started delivering these programs live over Zoom.
"After I piloted the tours with my grandparents and their circles, word spread quickly, and many older adults eagerly embraced the tours as a source of connection, learning, and joy amid lockdowns."
Averbach received many notes of gratitude, often from participants eager to share insightful impressions of the artworks or to reminisce about their own museum experiences.
"I began partnering with community organizations to offer live tours across the U.S. and Canada, and the impact grew exponentially," she says. "To date, my tours have reached over 2,500 participants from across 18 countries."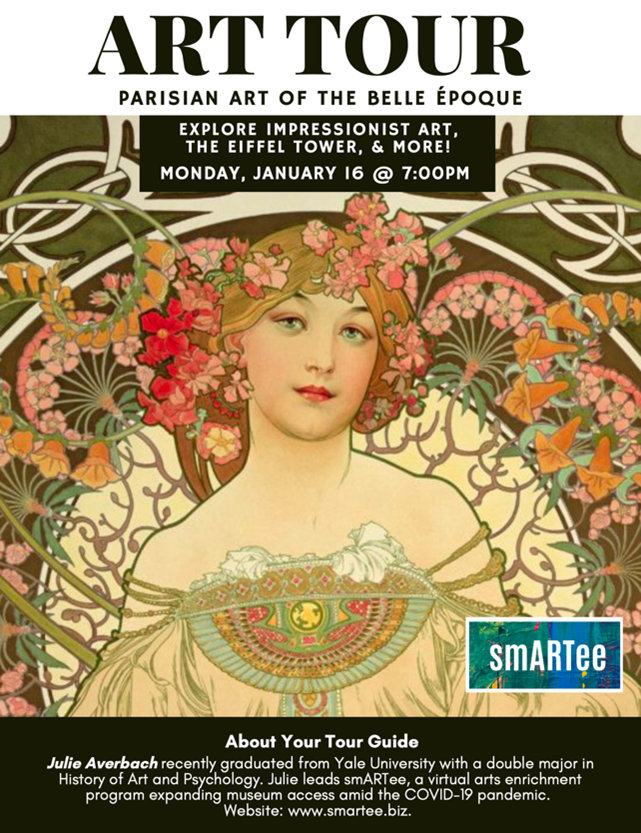 Art Tour Flyer
SmARTee tours are designed as compelling and immersive virtual programs that simulate the experience of visiting a museum in person. Using a slideshow of images, the viewer is guided through museum galleries, where they encounter collection highlights spanning across cultures and centuries. Tours feature new artworks to promote learning and famous artworks to spark reminiscence.
"I weave together information to narrate a story about each object, with an emphasis on content that might resonate with older participants," she says. "For instance, one tour features a ceramic dish in the style of Japanese potter Ogata Kenzan. This dish serves as an example of kintsugi, where broken fragments of pottery are repaired with gold, as a metaphor for embracing imperfection and the beauty of aging." Tours also discuss relatable aspects of artists' lives, such as vision and health problems that painters like Edgar Degas experienced as they aged, while honoring artists' creativity and achievements despite these obstacles.
To deliver smARTee tours, Averbach partners with retirement communities, older adult organizations, and religious groups. Existing partners include DOROT (New York City), the Cummings Centre (Montreal), the Whitney Center (New Haven), and others.
Currently, Averbach serves as a Yale Cohen Public Service Fellow, and is developing a new smARTee tour featuring Parisian art of the Belle Époque.
"In many ways, smARTee represents the culmination of my studies in History of Art at Yale," she says. "On campus, I was enamored with my History of Art lecture courses, constantly amazed at how my professors brought artworks to life through vivid description and innovative research. My greatest hope for smARTee is to share with others the love of learning about art that I have been privileged to cultivate at Yale."
More information is available at www.smartee.biz.
Article by Frank Rizzo