Graduate's Mondrian-themed Cap celebrated in New York Times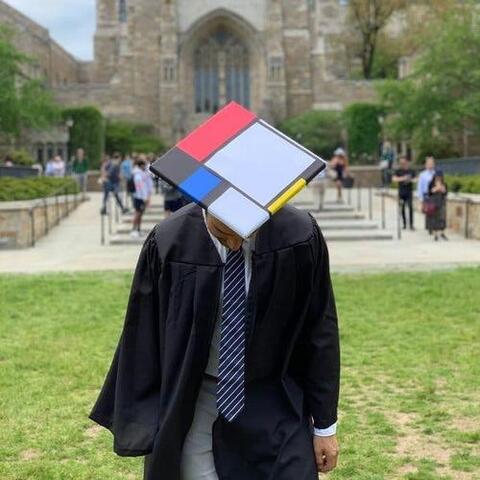 Graduate's Mondrian-themed Cap celebrated in New York Times
Xander Mitchell, BA'19, is quoted in the New York Times's article "Wearing Their Hearts on Their Graduation Caps." Members of the class of 2019 share the inspiration behind their decorated mortarboards" by Lela Moore. We congratulate Xander on graduating, and for his inventive spin on traditional graduation regalia. His words capture the very best of Yale.
"I'm a first-generation college student, so the pressure to pursue a "safe" major was on from the start of college. Studying art history was a bet that I'd get the most out of college engaging with something I truly loved, and one that I'm happy to say paid off.
My cap features Mondrian's "Fox Trot B," my favorite painting in the Yale University Art Gallery. For Mondrian, ideas come first, with dancing a close second. He's a reminder of the different ways one finds joy in a community of enthusiastic and open-minded people."
— Xander Mitchell, 22, New Haven, graduated from Yale University with a B.A. in history of art."
https://www.nytimes.com/2019/06/11/reader-center/graduation-caps-messages.html.