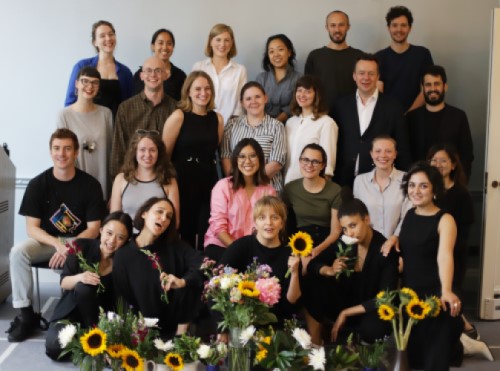 Grad students participate in Artist Collective Summer School
The Artist Collective Summer School
In mid-July, students from the Yale Art School, Yale History of Art, and the Doctoral Research Network in the United Kingdom participated in the inaugural summer school at the Paul Mellon Centre in London. In collaboration with the Institute of Contemporary Art, the summer school was a unique opportunity for artists and art historians to gather together and examine the topic of this year, the artist collective.
The program consisted of a wide array of workshops that interrogated the practices of both historical and contemporary collectives. In addition to conversing with British conceptual artist Barbara Steveni on institutional structures, the students debated the political motivations that underpin collectives with the Otolith Group and Creative Collectivity. These sessions were interspersed with visits to Oxford with Tim Barringer and the Tate Britain, during which students examined the notion of collectivity in 19th century Britain. The students also partook in hands-on activities, such as zine making at the Women's Art Library at Goldsmiths, University of London.
The dynamic conversations from the program culminated in a participant-led day. Considering the summer school itself as a collective, the students presented four interventions: archival, discursive, sociality, and structure. There are plans to make the documentation of the day, as well as the program, available to the public in the future.