Dr. Catalina Ospina to Join the Department in 2024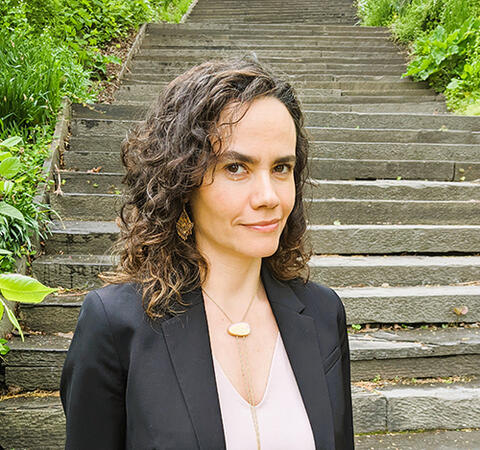 Dr. Catalina Ospina to Join the Department in 2024
Catalina Ospina, a specialist in pre-Columbian and colonial Latin American art history, will join the Department of the History of Art as an Assistant Professor on July 1, 2024.
She is currently a Postdoctoral Associate at the Institute of Sacred Music at Yale.
Dr. Ospina's research engages in close analysis of objects and artistic techniques to explore the multiple values of colonial aesthetics and the ways in which pre-Hispanic traditions in South America survived and transformed in colonial art. 
Originally from Colombia, she received her BS from Universidad de los Andes.
"Growing up I was very interested in art but I never considered art history a career," she says, "You couldn't study art history in Colombia then, though you could study art and take some history classes. That's why I didn't pursue it."
It wasn't until she reconnected with a friend who returned to Colombia after getting an MA in Scotland in Art History and took some of her classes that she felt a career in that field was possible.
She received an MA from the University of Chicago and wrote her thesis on the 1990s work of Doris Salcedo, a Colombian-born visual artist and sculptor, and the ways in which her work connected with Colombia's socio-political dynamic. Dr. Ospina received a Ph.D. in Art History from the University of Chicago in 2021.
Her book project at Yale, Identifying and Subverting Epistemic Asymmetries in the Colonial Andes, focuses on 17th and 18th Century mopa mopa objects, and shows "the way in which colonial structures inflicted injustices on colonial subjects in their capacity as knowers and intellectual producers."
It was on a field trip in Quito, Ecuador, visiting a nun's bedroom in a monastery museum that she came upon a small decorative box that caught her attention and drew her in.
"It was a moment that triggered an intense curiosity," she says.
That eventually led to her work on mopa mopa, a plant resin found naturally in the forest of the Amazon-Andes Piedmont. The tree secretion is chewed, colored in the mouth and stretched by hand, and transformed into a translucent, flexible, and adherent film. It has been used by Indigenous Andeans since Pre-Hispanic time as a decorative artistic material.
"Colonialism has dictated what we know and limited in many ways other sources. Part of the struggle in writing this history is that the Indigenous people didn't develop writing as we know it," says Dr. Ospina, whose scholarship includes understanding knowledge-making practices beyond alphabetic writing.
"Knowledge is encoded in different ways. When our main sources are not texts but objects, we are forced to think outside traditional methodologies in order to understand the history of their makers. It is a necessary moment and thrilling to see that people are interested in thinking in new ways to make our histories more inclusive."
By Frank Rizzo for the History of Art Department