Dr. Allison Caplan to Join the Department in 2023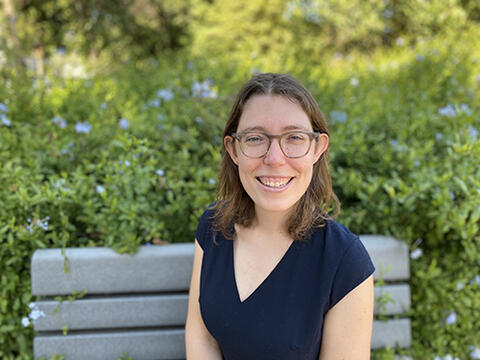 Dr. Allison Caplan to Join the Department in 2023
Allison Caplan, a specialist in ancient and colonial Mesoamerican art, will join the Department of the History of Art as an Assistant Professor on July 1, 2023.
Dr. Caplan's research focuses on the art of the Nahua people of the Aztec Empire and colonial New Spain, examining Nahua art theory for works combining precious stones, feathers, and metals, as well as language and aesthetics, issues of materiality and value, and the relationship between visual and verbal expression.
She is currently Assistant Professor in the History of Art and Architecture at the University of California, Santa Barbara.
Caplan, who grew up in the Washington, D.C. area, received her Ph.D. and MA in Art History and Latin American Studies from Tulane University and her BA in Comparative Literature and Society with a minor in Art History from Columbia University.
It was in graduate school that Dr. Caplan became increasingly fascinated by the Nahua people and their language. (The Nahuas are located principally in central Mexico, parts of El Salvador and some U.S. cities. It is estimated there are currently around 2 million Nahuatl- speakers.)
"I had a longstanding interest already in learning languages through Comparative Literature," she says. Her interest in Nahual deepened when she bought and became "enthralled" by Frances Karttunen's An Analytical Dictionary of Nahuatl.
Dr. Caplan expanded her scholarship from the dissertation "and I started looking more broadly at other aspects of Nahua aesthetes and art theory."
She notes that under nationalism, speakers of Indigenous languages have experienced intense persecution, with some languages now facing extinction. Dr. Caplan says the field of study on Indigenous languages, people and culture is a particularly active one.
After generations of study and interpretation of Indigenous art through European lenses and languages, Dr. Caplan says scholars are now working to see these people and cultures through the Nahuas' perspective.
Dr. Caplan says Nahua materials at the Yale University Art Gallery is a great asset and "a foundational collection."
Dr. Caplan holds two fellowships from the Dumbarton Oaks Research Library and Collection and the American Council of Learned Societies. She has also held fellowships and grants from the Getty Research Institute, the Center for Advanced Study in the Visual Arts, the Metropolitan Museum of Art, and Johns Hopkins University.
Her work has appeared in Ethnohistory, MAVCOR Journal, West 86th, and the exhibition catalogue Golden Kingdoms: Luxury Arts in the Ancient Americas (2017).
Dr. Caplan is currently working on her first book, Our Flickering Creations: Art Theory under the Aztec Empire, which — using Indigenous principles to define both the corpus and modes of interpretation — reconstructs the key concepts of color, light, surface, and assemblage in Nahua art theory for works in valued media, including the ancient American luxury arts. The study pairs the visual and material analysis of artworks with the linguistic study of Nahuatl texts.
By Frank Rizzo for the History of Art Department