Dr. Adusei-Poku Joins History of Art and African American Studies Departments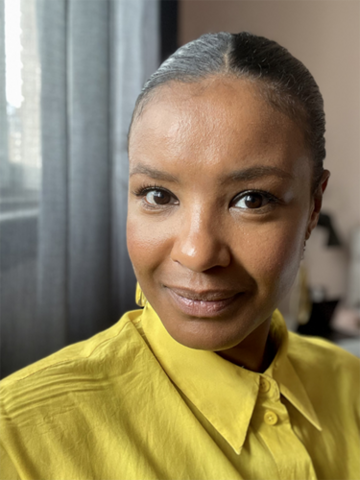 Dr. Adusei-Poku Joins History of Art and African American Studies Departments
On July 1, Dr. Nana Adusei-Poku joined Yale's Department of the History of Art and the African American Studies Department as an assistant professor.
Adusei-Poku first became interested in art when, as a young German/Dutch-Ghanian, she went on a field trip to Folkwang Museum Essen. During an art-education tour which focused on Marc Chagall's Les Champs de Mars, she began to realize the importance of art and its historical contexts.
She explains, "As a little black girl in a predominantly white environment, I was able to connect to Chagall's longing and the feeling about being different, displaced and alienated. I related — and was enthralled. My path wasn't yet set, but it sparked my imagination about the power of art in my understanding of the world."
Adusei-Poku's research centers on cultural shifts through the intersections of art, politics, and popular culture; artistic productions from the Black Diasporas, and curatorial practices as a means to shape historical discourses.
She received her Ph.D. from Humboldt University in Berlin for her thesis on post-black art as part of the graduate program "Gender as a Category of Knowledge," following degrees in African Studies and Gender Studies at Humboldt University and in Media and Communications at Goldsmiths College, University of London.
Adusei-Poku was an assistant professor in African Diasporic Art History in the Department of History of Art at UC Berkeley in California. Previously, she was  an associate professor and Luma Foundation Scholar at the Center for Curatorial Studies at Bard College in New York. She was also a visiting professor in Art History of the African Diaspora at The Cooper Union for the Advancement of Science and Art in New York City. Adusei-Poku has been a visiting scholar at the University of Ghana in Legon; the London School of Economics; and Columbia University in New York. She was also a Fellow at the Goethe Institute in Salvador de Bahia in Brazil.
Her first monograph, Taking Stakes in the Unknown: Tracing Post-Black Art, contextualizes the term "post-Black" in its socio-historic and cultural contexts, examines the legacy of Thelma Golden's 2001 exhibition, and explores the works of participating artists who were defined as part of the "post-black" generation.
She is the editor of Reshaping the Field: Art of the African Diasporas on Display, a 2022 publication on a selection of pioneering exhibitions that have shaped Black art today with an emphasis on how Black artists organized, networked, and created space for their work. It is the first publication to focus exclusively on African diasporic art in the U.S. and U.K. through the histories of Black art exhibitions.
Adusei-Poku curated the event "Performances of Nothingness" (Academy of Arts, Berlin, 2018);  the exhibition "Black Melancholia" (Hessel Museum of Art, New York, 2022) and the program "Longing on a Large Scale" in conjunction with Todd Gray's exhibition "Euclidean Gris Gris" at Pomona College Museum of Art, 2019-2020. 
"It's an exciting time to be in this field," she says, citing changes  caused by the Black Lives Matter Movement and the shifts in institutional as well as public consciousness about Black lives. "It's the activism and dedication of generations of scholars that has brought the field into being and shifted Art History."
African Diaspora Art is still a field that is under-researched but, she says, it is also a rich area for fresh studies for new generations of art scholars. "There are great gaps that we have about these African Diaspora artists: knowledge and content still have to be generated," she explains. "I'm thrilled there is so much interest in this field and that students are extremely hungry for this knowledge and eager to participate in this kind of work. This means there are opportunities for original research and it's an honor to help guide it. I am particularly excited about Black Exhibition Histories because only through the interplay of individual aesthetic production, socio-political context and the way in which the works were framed, received and discussed will allows us a more complex picture of history."