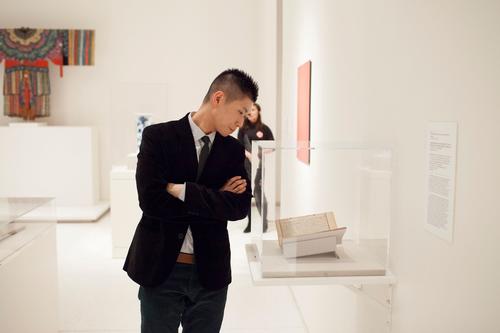 Department appoints new Assistant Professor of Chinese Art
We are delighted to welcome Quincy Ngan to Yale this Fall as Assistant Professor in the Department of the History of Art.  He received his bachelor's and doctoral degrees from the Chinese University of Hong Kong and the University of Chicago, respectively. Before joining Yale, he worked as Visiting Assistant Professor at the University of Iowa, where he was noted for his teaching on premodern and contemporary Chinese art, Japanese art, and gender and sexuality.
Quincy's research explores color, pigments, and materiality in traditional Chinese painting, as well as representations of skin in Chinese art from the premodern era and thereafter. Addressing an historiographical lacuna and bias in the field of Chinese painting that widely regards color as secondary to ink and brushwork, his book project, currently in progress, explores the oeuvre of the famous but understudied colorist Qiu Ying (ca. 1498-1552) while examining how azurite blue and its connatural counterpart, malachite green—two of the most expensive and versatile pigments in traditional China—conditioned the meaning of Qiu's paintings. His article on the relationship between azurite and the representation of government officials' robes in Chinese painting is published in Metropolitan Museum of Art Journal (Dec 2018). As a scholar interested in body, race, and sexuality, Quincy has developed a second project on representations of skin in China, as well as the politics and economy of beautiful skin and light complexion throughout Chinese history. A preliminary study for this project, which discusses the ways in which the contemporary female artist Xiang Jing (b. 1968) uses skin discoloration to evoke the internality of figures in her Naked Beyond Skin series (2007-8), appears in Yishu: Journal of Contemporary Chinese Art (Aug 2018). Beyond these projects, Quincy is also interested in the relationship between drama and Chinese painting, and will be presenting his research on this topic in an international conference at Swarthmore College this Fall.