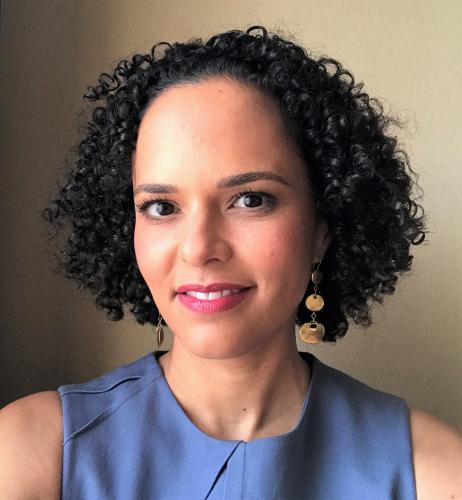 Cécile Fromont joins Yale as Professor of African Art
Cécile Fromont is currently the holder of the prestigious Rome Prize fellowship at the American Academy in Rome. Her highly-acclaimed book, The Art of Conversion (2014) explains how, between the sixteenth and nineteenth centuries, the Kingdom of Kongo adopted and modified Christian iconography and ritual while perpetuating and transforming local artistic traditions. Prof Fromont's research and teaching engage deeply with historical African Art objects of the kind richly represented in Yale collections, but she has also field-changing discoveries in European archives, such as a trove of watercolors by Capuchin Friars which provides vivid evidence of the emergence of a distinctive Afro-Christian culture in clothing, regalia and ritual. She has brought to the center of the discipline previously overlooked objects such as captivating bronze crucifixes fashioned by Kongolese sculptors.
In 2014, Cécile Fromont was a Fellow at the Institute of Sacred Music at Yale's Divinity School, and her forthcoming collection of essays, Afro-Catholic Festivals in the Americas: Performance, Representation, and the Making of Black Atlantic Tradition, is based on a conference she convened at the ISM. Her next book will investigate the material, visual, and spiritual connections the Atlantic slave trade produced between Europeans and Africans along the coasts both continents, examining objects made by free and enslaved Africans, and people of African descent. Prof Fromont will share this new research when she gives the Richard D. Cohen Lectures at Harvard in 2019.
A lively and committed teacher, Prof Fromont believes that Afro-Atlantic cultures provide an inspiring and broadly relevant opportunity for problem-based inquiries in the contemporary world. Recognized for her innovative collection-based pedagogy, she will work closely with colleagues at Yale University Art Gallery. We are thrilled to welcome Prof Fromont to the Department, where African Art has stood as a key component of the curriculum since Robert Farris Thompson joined the faculty in 1965.