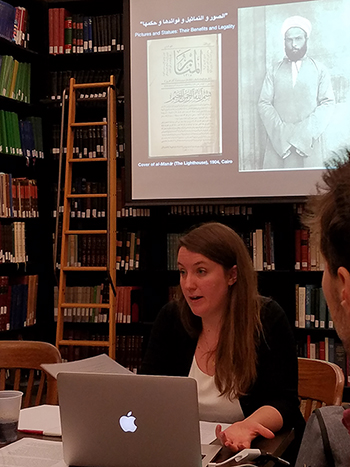 Alex Seggerman appointed to position at Rutgers Newark
We are happy to announce that Dr. Alex Dika Seggerman (PhD '14), currently a postdoctoral fellow at the Council of Middle East Studies and lecturer in the History of Art Department, will be an Assistant Professor of Islamic Art in the Department of Arts, Culture and Media at Rutgers University-Newark starting in Fall 2018. Part of a cluster hire in Islamic humanities, Dr. Seggerman will teach courses on Islamic and global modern and contemporary art history.
Dr. Seggerman's research focuses on the intersection of Islam and modernism in art history. Her book, Modernism on the Nile: Art in Egypt between the Islamic and the Contemporary (under contract, forthcoming 2019) analyzes the Egyptian modern art movement across painting, sculpture, photography, and print. She is also co-editing a volume called Making Modernity in Nineteenth Century Islamic Art and Architecture (under contract, forthcoming 2020), which brings together new art historical research on the Islamic Mediterranean to reevaluate the seismic artistic transformations of the long nineteenth century as the result of technological and market shifts. Her future projects include research on feminist painting in Egypt, the role of pedagogical photography in the construction of Islamic difference in art history, and the long arc of Islam and art in America from the sixteenth century until today.