Samuel Luterbacher
Primary tabs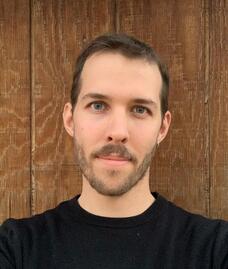 M.A. Courtauld Institute of Art, 2012
Ph.D. Yale University, 2020
My research examines the art and material culture of the Spanish and Portuguese empires in the early modern period, with a focus on trade with Asia and the larger Indo-Pacific. I am interested in how transit affects artistic production and in the role of the so-called "decorative" and "popular" arts in the process of globalization.
My current book project examines diverse objects crafted for export and transported within imperial trade networks of the Spanish and Portuguese empires from the sixteenth to the eighteenth centuries. I describe a category of "accretive artworks" composed of layers of influence, interpretation, and intervention, as well as the numerous agents and artists responsible for their modification at multiple points of encounter within and around the colonial Iberian Viceroyalties.  This invites consideration of diverse transpacific materials such as lacquer, shell, ivory, paint, and even textiles, that were all traded along Iberian maritime routes and among Port cities of Goa, Macao, Nagasaki, Manila, and Acapulco. The Indo-Pacific sphere will complement established Atlantic-oriented models of artistic transfer. It also helps account for colonial makers and interlocutors who have been excluded or erased from the historical record.
Another recent research project concerns the relationship between the production of dressed religious sculpture (imágenes de vestir) and global fashion in the seventeenth- and eighteenth-century Iberian- controlled territories. Its focus is the ubiquitous Catholic tradition of clothing lifelike polychrome religious sculpture in luxurious jewelry and stiffly-layered textiles, for use in public rituals and private devotion. This project positions dressed sculptures as multimedia assemblages composed of layered interventions, from the guild artists who crafted their bodies to the local communities that clothed them. By encouraging a vision of aesthetic creation that accounts for a host of makers and recipients, dressed sculpture challenges the binary divide between "production" and "reception" in art history.  They embody the different forms of colonial labor which fueled the imperial commercial maritime projects in Indo-Pacific realms. I argue that the accretive, mutable nature of dressed sacred images runs parallel with the rise of early modern fashion consumption and regulation.