Rizvana Bradley
Primary tabs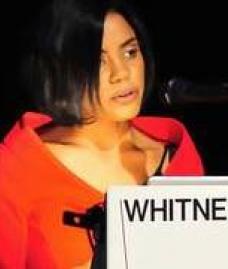 ON LEAVE 2019-2020 ACADEMIC YEAR
Assistant Professor, History of Art, and African-American Studies
Postwar Contemporary Art and Performance
Moving Image Practices
Loria Room 458, 190 York Street, New Haven, CT 06511
B.A., Williams College
Ph.D., Duke University
Whitney Independent Study Program
Rizvana Bradley is a scholar of contemporary art, with an interest in performance in relation to the development of the moving image and mixed-media installations. Her scholarly approach to artistic practices and cultural production within the wider black diaspora expands and develops frameworks for thinking across different artistic mediums in global and transnational contexts. Bradley's teaching and research in contemporary art intersect with black studies, anticolonial politics, feminist and gender studies, continental philosophy, postcolonial theory, and aesthetic theory.
Bradley has written about a range of contemporary artists, including: Barbara Hammer, Howardena Pindell, Isaac Julien, Steve McQueen, John Akomfrah, Lynette Yiadom-Boakye, Zarina  Bhimji, Zina Saro-Wiwa, Theo Eshetu, Candice Lin, Pope. L, Senga Nengudi, Simone Leigh, Paul Mpagi Sepuya, Sable Elyese Smith, and Harry Dodge.
Recent research has focused on gender and sexuality with respect to race, aesthetic labor, and visual representation. Her writing also addresses: visual histories of the racialized body; film theory and the politics and poetics of moving images; temporality and duration in contemporary performance and dance. (Published work can be found here.)
Bradley is currently at work on two scholarly book projects. The first is a recipient of a Creative Capital | Andy Warhol Foundation Arts Writers Grant. It offers a critical examination of the black body across a range of experimental artistic practices that integrate film and other media.
Art Criticism has appeared in Parkett, Art in America, e-flux, and she has contributed writing for the New Museum, ICA Philadelphia, Art Basel, the Berlin Biennale, Haus der Kulturen der Welt, Berlin, the Logan Arts Center/University of Chicago, the Leslie-Lohman Museum of Gay and Lesbian Art, and Whitechapel Gallery, London (forthcoming).
Bradley has organized public programs and sympsia featuring artists, scholars, and curators at: the Serpentine Galleries; British Film Institute (London,); Stedelijk Museum (Amsterdam); and Centre National de la Danse (Paris).  Before joining the Yale faculty, Bradley taught at University College London, in the History of Art Department, and at Emory University.
SELECT PUBLICATION:




"The Diasporic Time-Image." The Art of the Moving Image in Britain After 1989 (forthcoming, Yale University Press, 2019).
"Candice Lin's Minor Ecologies." Candice Lin: A Hard, White Body. (forthcoming, University of Chicago Press, 2019).
"The Parapolitical in Performance," in Cultural Freedom and the Cold War. (forthcoming, Sternberg Press/HKW Berlin, 2019.
"Cinematic Gesture and the Aesthetics of Contagion." TDR: The Drama Review, vol. 62, no. 1 (2018): 14-30.
"Vestiges of Motherhood: The Maternal Function in Recent Black Cinema." Film Quarterly, vol. 71, no. 2 (2017): 46-52.
"Reinventing Capacity." Black Camera: An International Film Journal, "Fugitivity and the Filmic Imagination," vol. 7 no. 1 (2015): 162-78.
"Transferred Flesh: Reflections on Senga Nengudi's R.S.V.P." TDR: The Drama Review, vol. 59, no. 1 (2015): 161-66.
"An Interview with Artist Pope. L." Women and Performance: A Journal of Feminist Theory, "The Haptic: Textures of Performance," vol. 24, no. 2-3 (2014)" 220-23.
Women and Performance: A Journal of Feminist Theory. Special Issue Editor. "The Haptic: Textures of Performance." vol. 24, no. 2-3 (2014)
"Ways of the Flesh: Barbara Hammer's Vertical Worlds." Barbara Hammer: Evidentiary Bodies. Leslie-Lohman Museum of Gay and Lesbian Art (2017).
"The Quiet Bohemia of Lynette Yiadom-Boakye." Parkett 99. (2017).