Nicole Paxton Sullo
Primary tabs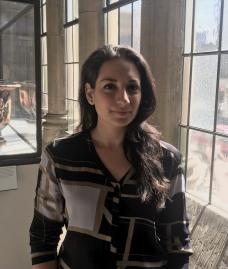 Medieval and Byzantine Art
B.A., Wellesley College
M.A., University of Notre Dame
Ph.D., Yale University
Nicole Paxton Sullo is a Graduate Alumni Postdoctoral Fellow and lecturer in the History of Art Department. Her scholarship explores medieval attitudes toward the cognitive function of memory, the relationship between memory and temporality, and the way in which such concepts simultaneously defined and were informed by the visual culture of Byzantium. Her current book project, The Byzantine Art of Memory, argues for the visual role of memory in monastic contemplation, in the acquisition of knowledge, and in the production of sacred images. By methodologically engaging the dual formation of individual intellect and communal identity, she explores societal shifts which, on the one hand, lead to changing concepts of memory's inner-workings, and on the other, shaped the manipulation of cultural memory through visual means across the Mediterranean. The work stemming from this project, the first comprehensive study of Byzantine memory, not only establishes a new framework for interpreting innovations in art during this period, but also engenders wider implications for memory studies in the field of medieval art history.  
Other research interests include: the art of medieval Serbia; narratives of exile following Constantinople's fall in 1453; cultural memory in the post-Byzantine diaspora; the reception of "Byzantium" as a concept in Renaissance Italy; interplay between word and image; dialogue on memory theory between networks of scholars across the medieval Mediterranean; contemporary perceptions of Byzantium.
Sullo received her PhD from Yale University. She holds an MA in Art History from the University of Notre Dame, where her research focused on visual and linguistic hybridity in the wall paintings of southern Italian rock-cut churches of medieval Apulia. During her doctoral studies, she was awarded a Twelve-Month Chester Dale Predoctoral Fellowship from the Center for Advanced Study in the Visual Arts (CASVA) at the National Gallery of Art. Her research has been supported further by fellowships at the Institute of Sacred Music at Yale and the Medieval Institute at the University of Notre Dame. 
She has taught courses on the visuality of medieval memory practices, cognition in the Middle Ages, and Byzantine art. Her Fall 2020 course, "Decolonizing the Middle Ages," explores the way in which intertwined notions of modernity, coloniality, and imperialism impose themselves on the discipline of Art History and on the study of art dating to the canonically-designated "medieval" period (c. 1000–1500).