Kobena Mercer
Primary tabs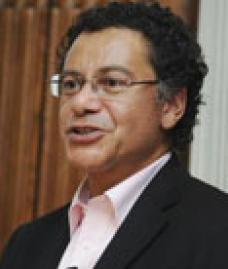 Professor in the History of Art and of African American Studies
Contemporary Art
Art of the African Diaspora
Loria Room 558, 190 York St, New Haven, CT 06511
B.A., St. Martin's School of Art, 1981
Ph.D., Goldsmiths' College, University of London, 1990
Faculty member Kobena Mercer's new book, Travel & See: Black Diaspora Art Practices since the 1980s, published by Duke University Press
Comprised of eighteen chapters, Travel & See brings together essays of mine that, in covering two decades from 1992 to 2012, recount the journey by which African American, black British and Caribbean artists have contributed to the transformation of art in an age of globalization.
With in-depth attention to aesthetic strageies in painting, sculpture, film, photography, and installation, while  tracing the shifting political and cultural contexts in which black visual art circulates, the book features monographic studies of John Akomfrah, Isaac Julien, Kerry James Marshall, Renée Green and Yinka Sonibare, as well as reflections on historiography in light of Stuart Hall's and Paul Gilroy's contribution to the Black Atlantic paradigm diaspora studies associated with the work of Robert Farris Thompson. Over 100 color reproductions highlight the wide array of practices at play in black diaspora aesthetics today.
With headnote sections to guide the reader through the transformations black diaspora artists have brought to global contemporary art, the book draws out the dialogical principle of cross-cultural interaction at stake in the aesthetics of hybridity and transculturation as a framework for a renewed understanding of modernism as well.

Travel & See: Black Diaspora Art Practices since the 1980s             
Introduction
One: Art's Critique of Representation
1  The Fragile Inheritors
2  Busy in the Ruins of Wretched Fantasia
Two: Differential Proliferations
3  Marronage of the Wandering Eye: Keith Piper
4  Mortal Coil: Eros and Diaspora in the Photographs of Rotimi Fani-Kayode
5  Avid Iconographies: Isaac Julien
6  Art that is Ethnic in Inverted Commas: Yinka Shonibare
Three: Global Modernities
7  Home from Home: Portraits from Places In Between
8  African Photography in Contemporary Visual Culture
9  Ethnicity and Internationality: New British Art and Diaspora-Based Blackness
10 Documenta 11
Four: Detours and Returns
11 A Sociography of Diaspora
12 Diaspora Aesthetics and Visual Culture
13 Art History after Globalization: Formations of the Colonial Modern
14 The Cross-Cultural and the Contemporary
Part Five: Journeying
15 Postcolonial Trauerspeil: Black Audio Film Collective
16 Archive and Dépaysement in the Art of Renée Green
17 Kerry James Marshall: The Painter of Afro-Modern Life
18 Hew Locke's Postcolonial Baroque 







Selected Publications
''Photography's Time of Dispersal and Return,' in Jill Casid ed. Art History in the Wake of the Global Turn, Williamstown and New Haven: Clark Art Institute/Yale University Press, 2013
'Art History and the Dialogics of Diaspora,' Small Axe n38, July 2012
'Interrupting Arkhe: The Installation Art of Fred Wilson," Fred Wilson, Works, 2004-2011, Cleveland Museum of Art, 2012
'Where the Streets Have No Name: A Democracy of Multiple Public Spheres,' in Helen Molesworth ed. This Will Have Been: Art, Love and Politics in the 1980s, Chicago and New Haven: Museum of Contemporary Art/Yale University Press, 2012
'Archive and Depaysment in the Art of Renée Green,' in Nichole Schweizer ed. Renée Green, Ongoing Becomings, 1989 - 2009, Zurich: JRP Ringier, 2010