Carolyn Laferriere
Primary tabs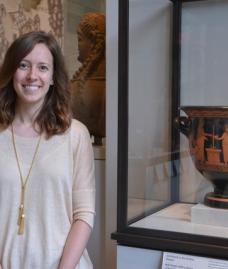 Postdoctoral Associate in Ancient and Premodern Cultures and Civilizations, with ARCHAIA. Lecturer in the History of Art and Classics.
Loria Room 454, 190 York St, New Haven, CT 06511
PhD. Yale University, 2017.
M.A. University of British Columbia, 2010.
B.A. Carleton University, 2008, summa cum laude.
Carolyn M. Laferrière is a Postdoctoral Associate with Archaia, Yale University's interdisciplinary program for the study of the ancient world, as well as a Lecturer in the Departments of the History of Art and Classics. Dr. Laferrière earned her Ph.D. in 2017 from Yale University, in the Department of the History of Art. She was a visiting scholar in the Faculty of Classics at Oxford University in 2015, and a Student Associate Member at the American School of Classical Studies in 2016-17. She has also studied at the University of British Columbia for an M.A. in Classical and Near Eastern Archaeology (2010), and Carleton University for a B.A. in Art History and Classics & Religion (summa cum laude, 2008).
Dr. Laferrière's research focuses on Archaic and Classical Greek art and archaeology, with particular attention to the relationship between art and religion. Her research focuses more specifically on the multiple ways that visual art could communicate the presence of the divine by evoking specific sensations in ancient Greek viewers. Her current book project, Sensing the Gods: Divine Music and Religious Ritual in Archaic and Classical Greek Art, looks specifically at music and dance, and examines the visual significance of the Greek gods depicted as musicians, to determine the effect that images of divine musical performance may have had upon the ancient viewer's religious experience. She is also at work on a number of articles, including the representation of musical myths on Greek vases and the role of sound in conveying the narrative, and the depiction of black-figure vases embedded within red-figure painted scenes and their ability to evoke and elaborate upon the sensory experience of the symposium. 
She is curating an exhibition at the Yale University Art Gallery, which will open in November 2018. The Sights and Sounds of Ancient Ritual takes a sensory approach to its investigation into ancient ritual practice by focusing upon objects that would have engaged the worshippers' senses of sight and sound, since both visual and sonic modes of perception were routinely enhanced within religious ritual. Working between sight and sound, the exhibition includes objects from cultures representative of the entire ancient world, including Mesoamerica, the Mediterranean, Egypt, the Near East, India, and Asia. Each object either depicts the divine, features representation of religious ritual, or was itself used within ritual. By displaying these objects together, the exhibition explores points of contact among ancient religious practices, examining how ancient cultures used visually and sonically evocative works of art to create powerful experiences of the sacred.​