Ariel Fein
Primary tabs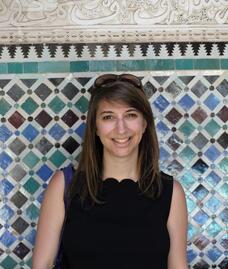 Byzantine and Islamic Art
B.A., Barnard College
B.A., Jewish Theological Seminary
M.A., Courtauld Institute of Art
Ariel Fein is PhD Candidate in the History of Art Department. Her scholarship explores the intersection of Christian and Islamic visual cultures, in particular the circulation of objects, peoples, and ideas across the frontier zones of the Mediterranean. Her current book project, Greeks, Arab-Christians, and Muslims: Minority Patrons in Norman Sicily (1072-1194), argues for medieval visual culture and patronage as a barometer of interfaith negotiations. By shifting attention away from Norman Sicily's ruling Latin Christian protagonists to its leading Greek, Arab-Christian, and Muslim administrators, she explores how these officials fundamentally shaped Norman visual culture and manipulated its hybrid aesthetic to define their religious identity vis-a-vis their neighbors. The work stemming from this project, the first comprehensive study of emiral patronage in Norman Sicily, not only establishes a new framework for interpreting Norman visual culture, but also engenders wider implications for the study of the intersection of art, religion, and violence in the field of medieval art history.
Other research interests include: the arts of medieval Arab-Christians; identity negotiation and cultural memory in the post-Byzantine diaspora; the interplay between word and image; and Jewish ceremonial art and architecture, with a particular focus on the Jewish communities of the nineteenth- and twentieth-century Middle East. She conducts research in Egypt, Morocco, Tunisia, Lebanon, Cyprus, and Sicily.
Fein holds an MA in Art History from the Courtauld Institute of Art, London, where her research focused on material, epigraphic, and ritual exchange between the Jewish and Muslim communities of Jerusalem in a late-Mamluk metalwork basin. During her doctoral studies, she was awarded the Jane and Morgan Whitney Fellowship in the Islamic Art Department from the Metropolitan Museum of Art. Her research has been further supported by grants from the Mary Jaharis Center for Byzantine Art and Culture, the International Center for Medieval Art, and the Italian Art Society.
She has served as an Adjunct Lecturer at William Paterson University and the Jewish Theological Seminary, teaching a survey course on Islamic Art, and an undergraduate/graduate seminar on conceptions of holy space in medieval Jerusalem.