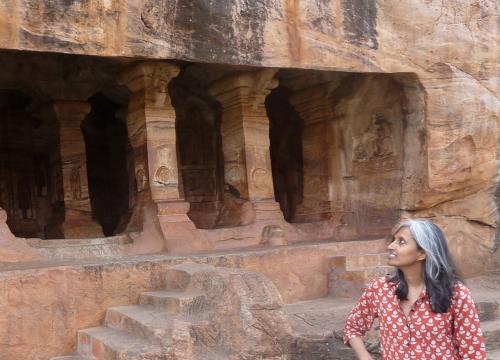 New Professor of South Asian Art Joins Yale Faculty
We are delighted to announce that Dr. Subhashini Kaligotla will join the Department as Assistant Professor, South Asian Art.  Subhashini received her Ph.D. in Art History and Archaeology from Columbia University in 2015.  Her area of expertise is medieval Deccan India, 500 – 800 CE, with research interests in sacred architecture, mobility and transcultural interaction, textual and visual intersections, landscape history and culture, and the historiography of South Asian art history.  She is working on a book manuscript titled "Argument and Ornament in the Architecture of Deccan India," which questions the canonical binary conception of Indian sacred architecture and the fragmentary view it engenders of the Deccan's earliest surviving stone constructions.  The book draws attention to the agents and agencies involved in the making of the Deccan's heterogeneous built spaces and places the temples in new regional and supra-regional historical perspectives.  Engaging with the analytical frameworks of cosmopolitanism, courtly ideas about ornament and aesthetics, and South Asian notions of place and power, the work situates Deccan choices in the visual realm alongside similar transregional practices in the linguistic, ritual, political, and landscape spheres.
Subhashini's research has been supported by the Fulbright program, the Center for Advanced Study in the Visual Arts, the Getty Research Institute, Berlin's Forum Transregionale Studien, and Dumbarton Oaks, where she co-organized a colloquium on the landscape histories of premodern South Asia in Autumn 2014. She is currently Postdoctoral Fellow in the "Connecting Art Histories in the Museum" research group at the Kunsthistorisches Institut in Florenz.  A notably eloquent writer and lecturer, Subhashini also holds an MFA in Creative Writing and will be publishing her first poetry collection in Fall 2017. Her early training and professional experience was in Engineering. She will begin teaching at Yale in Fall 2018, following the completion of her current fellowship.